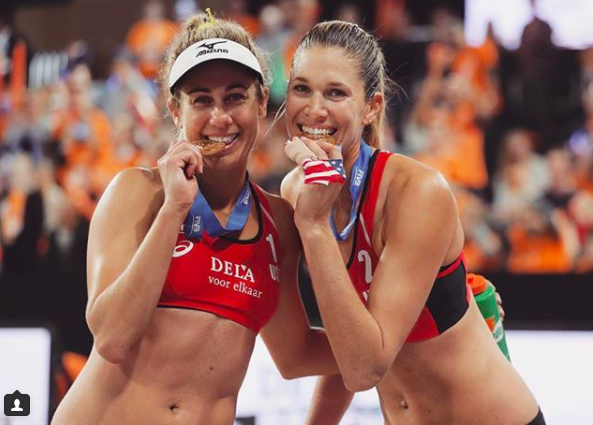 The 2018 beach volleyball season is, remarkably, upon us. In a way, at least. 
The FIVB kicked off the 2018 year in the very first week of the year, hosting an indoor beach tournament at The Hague, a four-star event to open the season, hauling in a variety of new partnerships and unfamiliar faces.
One of those new partnerships, of course, was that of April Ross and Alix Klineman, who took the longest road possible, battling through a pair of country quota matches, two more in the qualifier, and then running off six straight-set wins in the main draw to claim gold, beating Brazil's Maria Antonelli and Carolina Salgado – another team that came out of the qualifier – in the finals.
"I'm going to be riding high on this win for awhile and this week in The Hague was a blast," Ross wrote on Instagram afterwards. "Pretty excited or this journey."
It was Klineman's first international beach tournament, though far from her first time on a big stage, having played on both the Brazil and Italian indoor leagues.
As for the rest of the U.S. teams, though, it wasn't quite the start to the year many would have desired.
Sara Hughes and Kelly Claes finished ninth, while Brooke Sweat and Summer Ross took a 17th and Lauren Fendrick and Karissa Cook finished 25th. The men didn't fare much better, with the new partnership of Billy Allen and Ryan Doherty claiming the highest finish of American teams at ninth. Casey Patterson and Stafford Slick and Miles Evans and Billy Kolinske both finished 17th.
"It was definitely a little weird overall," said Trevor Crabb, who failed to make it out of the qualifier, on SANDCAST: Beach Volleyball with Tri Bourne and Travis Mewhirter. "Me and [Sean Rosenthal] pretty much decided we won't practice together before we left for the trip because I went back to Hawaii for the offseason and pre-season for six weeks, doing some training there, and I'm not exactly sure how much training he was doing. It was so early in the year, it's the end of off-season and beginning of pre-season, and it affected us for sure." 
Play Now