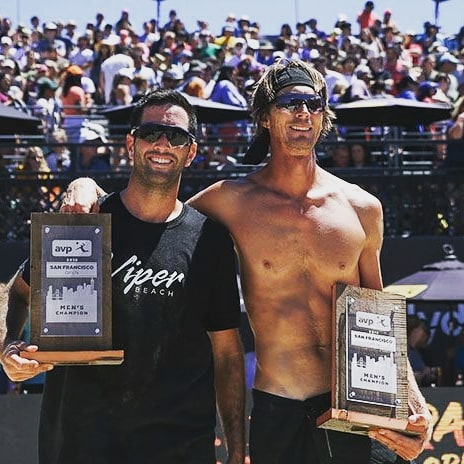 Rafu Rodriguez-Bertran was not supposed to win an AVP this year. Heck, he wasn't even sure if he'd play an AVP this year.
This past winter, he had a son, Nico, his first child. His club in Temecula, Viper Volleyball, was growing and taking off. He'd had an excellent career, one that took him as high as the 2015 World Championships.
It was time for a shift in priorities.
He told this to his partner, Piotr Marciniak, who nodded and went to Ty Loomis for Austin. Rafu sat out.
And then beach volleyball happened. Partners changed. Eric Zaun moved from Ed Ratledge to Tim Bomgren, leaving Ratledge without a partner.
Which brings us to another point: Ed Ratledge was not supposed to win an AVP this year.
He's 41, been trying for 18 years. Dumped by the partner with whom he'd had his most career success, Ratledge, it seemed, was on his way out, no different than Rafu. Like Rafu's club, Rateldge's business, VolleyOC, was constantly expanding.
And so the most wonderful band, one quasi-retired, one sort of reprioritizing, was formed.
"It's sort of stepping out, kind of doing it part-time slash full-time," Rafu said on SANDCAST: Beach Volleyball with Tri Bourne and Travis Mewhirter. "I have some other stuff to do but I still want to train and I still want to compete because In like competing but for sure, I never had it in my mind that I would be in that final. Ed is the same way: he loves playing. We do it for fun because that's what we want to do. That takes away all of the pressure."
So what did their pre-semifinal routine look like? What was the master strategy to toppling Billy Allen and Ryan Doherty and then Sean Rosenthal and Chase Budinger?
What was the key to unlocking 18 years of championship buildup for Ratledge?
"It's like, 'Let's just go out and play.' We didn't even have a strategy going into the semifinals," Rafu said, laughing when saying it aloud, as if it just occurred to him how outrageous that is. "[Sunday] morning he was on the phone, setting up his tournaments back home, on the phone, and then we skateboard down to the site and 'Hey, let's just play!' It worked out. I don't know why. No pressure. Just play. It's so fun because there's never a single drop of pressure between us."
They play free and weird, and in this world, weird is the most supreme of compliments. Ratledge's dialogue with the fans is one of a kind, and his arm swing, coined the "wet noodle" by Tri Bourne and Trevor Crabb on the New York livestream a year ago, is the most frustrating swing on tour, one that doesn't bring a tremendous amount of pace but was, by tournament's end, the most effective of any player in San Francisco.
"And," Rafu added, "he optioned at least 50 percent of balls I passed."
Unconventional. Weird. Quirky. From the dialogue to how they've both taken half-steps back in order to achieve their career bests.
But really, is there any other way it could have gone?
"It's kind of crazy, all the messages and all the people that are interested and are aware of what's going on and watching," Rafu said. "It's pretty fun, it's pretty cool to have all that support. Even when you don't know there's not many people watching you. It's cool."
Play Now