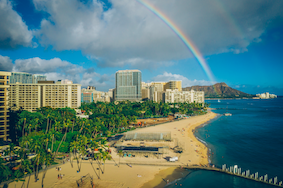 You'd have thought he was busy enough, Wilco Nijland. His plate of responsibilities includes only, oh, a 10-stop beach volleyball tour in the Netherlands, his role as the Controlling Operations Officer at Sportworx, and subbing in as the coach for the Dutch team of Sophie van Gestel and Marloes Wesselink.
Why not add an entire new concept, a four-stop, international beach volleyball tour, on top of all that?
In a year that was replete with new developments – a massive event to kick off the AVP season, a domestic invitational in Hawai'i, record FIVB events, the establishment of p1440 – Nijland's brainchild, King of the Court, was the smash hit of 2018.
"It was 15-20 tournaments in a row," Nijland said on SANDCAST: Beach Volleyball with Tri Bourne and Travis Mewhirter. "It was a lot. And, of course, it was the first time with the King of the Court so there was a lot of pressure. And the world was watching us so at times it was very heavy, but most of the time it was very good."
All of the time, it seemed, it was very good. It was good for viewers, who packed stadiums in the Netherlands, Belgium, Hawai'i, and Huntington Beach for all four events. It was good for players, who were treated like, well kings, with hotels for a week, events every night – Dodgers games, dinners, parties, surf lessons, the works. It was good for the game, which received a jolt of fresh energy, a new format, new partnerships – the Netherlands' Alex Brouwer and Russia's Oleg Stoyanovskiy, for example, or Aleksandrs Samoilovs and Martins Plavins – and a pace of play that was at once exhilarating and fascinating.
"It's so extremely fast. If you take a look in the stadium and you're sitting there for five minutes, you already saw three amazing rallies going on. It's completely different from normal beach volleyball, which is already fun. It's a next level thing, I guess."
Five teams play on a single court, in a hyper-speed display of offensive prowess and the occasional bicycle kick, the method used by Austria's Alexander Horst to score a point in Utrect, the first event of the series.  
"It's engaging the entire time," Bourne said. "The fans are getting to watch three plays in the time it would normally take one, but you're also thinking strategically: 'What should this team be doing? What are they trying to do?' You're constantly looking at the score so the fans are engaged the entire time."
Bourne competed with Trevor Crabb in the Hawai'i and Huntington Beach King of the Court events, eliminated early in Hawai'i due to some alliances formed against them in order to push another team through to the next round.
By the next event, such tactics were banned, as the rules are still in constant flux, able to change on the fly.  
"Each tournament did something a little better," Nijland said.  
And there will continue to be more tournaments. Four more, which will be cooperatively scheduled with the FIVB, is the plan for 2019, with designs on adding events all the way up to 10.
"Of course, there were things going wrong but it went very smooth and we succeeded in adding a different kind of beach volleyball format in the beach volleyball world," Nijland said. "It was very successful because the players like it a lot, the fans like it a lot, the FIVB thought it was fantastic. We have some good partners. We can be very proud of our team and we can be excited about the possibilities we have."
Play Now