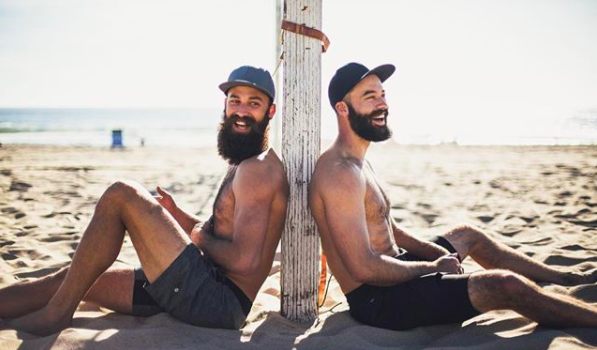 The McKibbins are not all that different from any other set of siblings, if not a touch more hirsute and athletically inclined.
They fight. They argue. They point out one another's flaws, sometimes a bit gleefully. And they do this often. Often enough for Riley McKibbin to film a video blog detailing the frustrations of volleyball, and playing volleyball with your brother, and how to deal with these frustrations.
"I think we would both agree that we have a hard time listening to each other," Maddison McKibbin said on SANDCAST: Beach Volleyball with Tri Bourne and Travis Mewhirter. "Just because you're brothers, if you hear one word of critique, you go straight back to the last thing he messed up on, and you're thinking 'Dude don't talk to me when you're doing this.' You revert to it and it's so bad. I would never treat anyone else like that.
"It's this battle of trying to take suggestions and criticisms and critiques constructively and I know that sounds very basic but it's hard when it's your brother."
Their relationship is at once their biggest strength and vulnerability. On a tip from defender Geena Urango, a fellow USC Trojan, the McKibbins now pick out three aspects or skills each of them want to work on in practice, which has both improved their volleyball and reduced the resistance to critiques from a sibling.
"If we mess up on something else, it's 'I'm not going to get mad at you, you're not going to get mad at me, we're just working on these three things,'" Maddison said. "And then enforcing at the end of practice one thing that went well and one thing that we're working on. The idea is to cut down on the frustration and whatever you want to call it between you and your partner, because when you have a plan, you can call someone out if you really want to, like 'Hey, Riley, you suck at number two.'"
It's why this past season was so different for Maddison, who hadn't played with anyone aside from Riley since 2011. When Riley hurt his hand in the season-opening event in Huntington Beach, Maddison was forced to explore partner options, to play with someone he didn't share a childhood with, didn't share the USC court with, didn't travel throughout Europe with, didn't grind through the qualifiers with.
What he found was this: Finding, and keeping, partners, is tough. Meshing with new partners is tough.
Playing without your brother is kinda weird.
He played Austin and New York with Reid Priddy, and in the subsequent shuffle prior to Seattle, he wound up with Ty Loomis. And after getting swept out of Seattle, they stunned no small number of people in winning San Francisco just two weeks later.
Most would have thought Maddison and Loomis would stick together. A no-brainer. They were champs!
Then again, most don't understand the bond between the Beard Brothers.
"When I played with Reid I told him 'When Riley's coming back, I'm playing with Riley' and it was the same thing I told to Ty," Maddison said. "And Ty wanted to keep going and I completely understand. But to me, I'm an incredibly loyal person, and I love the game of beach volleyball, but we both know that, financially, it's hard to sustain, and playing with my brother, I love playing with my brother.
"When we win, it's that much better, and when we lose, it sucks. In order to make this lifestyle sustainable, we have to create content, we have to develop a brand within the sport, and I'm not saying I'm only playing with him because of our brand, but when you win with someone who's had your back for that long, or has encouraged you to pursue so many different things, that in itself is enough to say that 'I know I had success with this one person but I'd much rather win with you.'
So my goal is: 'I want to win with you. I want to be these idiotic beard brothers on the AVP. That's where I want to be in life."
Play Now