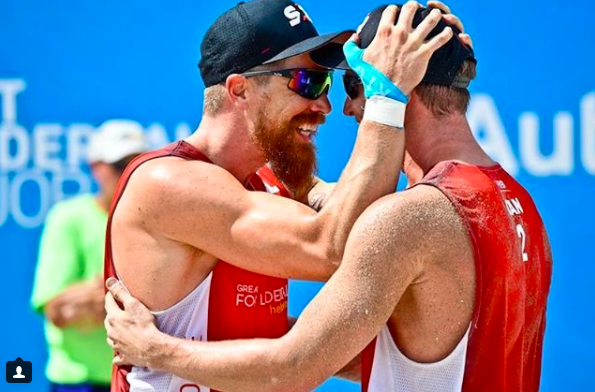 Sam Pedlow remembers the crying.  
There he was, a full-fledged Canadian, playing hockey, his country's past-time sport, the American equivalent of football, at a fairly high level, living up to the expectations of all of those around him.
And then he abandoned it.
He left a youth playoff hockey game for a volleyball practice. In some parts of Canada that might very well be considered treason.  
"I felt like I was disappointing everybody," Pedlow recalled on SANDCAST: Beach Volleyball with Tri Bourne and Travis Mewhirter. "I was no longer playing hockey. But in order for our sport to continue to survive we need people to continually replace us. I want to be a place where people are continually beating me. Our program has been on the rise these past five years. We need to keep that momentum going, and we need people to fill in for us when we ultimately retire."
There is not an especially urgent rush in that regard. Should Pedlow and his partner, 6-foot-6 defender Sam Schachter, remain together, they could legitimately have three more Olympic Games in their futures. Pedlow is just 30, Schachter, already an Olympian in 2016 with Josh Binstock, just 27.
As partners, they're only beginning to hit their stride, logging their eighth consecutive top 10 finish on the FIVB World Tour with a ninth in Fort Lauderdale this past weekend, beating Austrians Clemens Doppler and Alexander Horst before bowing out in three sets to Spain's Adrian Gavira and Pablo Herrera.
But beyond their own individual gain and fame, which is on the rise, thanks to the active and wonderful social media from Pedlow, they're looking to develop a latent beach volleyball community in Canada, which hasn't won an Olympic medal since 1996, when John Child and Mark Heese claimed bronze in 1996. Schachter's ninth-place finish in Rio was Canada's best since 2004.
"We need people starting to play all over the place," Schachter said. "This sport is so unbelievable because you don't have to be the biggest and strongest like you would in indoor. It's so much a mental game where you have to be smart and strategy and you don't have a coach so there's an independence factor and the girls are beautiful."
Looks aside, the Canadian women's program, which has yet to win an Olympic medal, is becoming a bona fide power in its own right. Two teams – Sarah Pavan and Melissa Humana-Paredes and Heather Bansley and Brandie Wilkerson – claimed top-10 finishes in Florida, and both landed in the top 10 in the world rankings at the close of the 2017 season.
The only team with more points than Pavan and Humana-Paredes? Brazil's Talita and Larissa, excellent company to be keeping for a hockey-crazed country.
"Our women's program is going to be strong for a long time," Pedlow said.
With Pedlow and Schachter climbing the world ranks, the men's program has an auspicious look as well.
Perhaps soon enough, with a few more top finishes on the word tour, there will be no more crying in volleyball.
Play Now