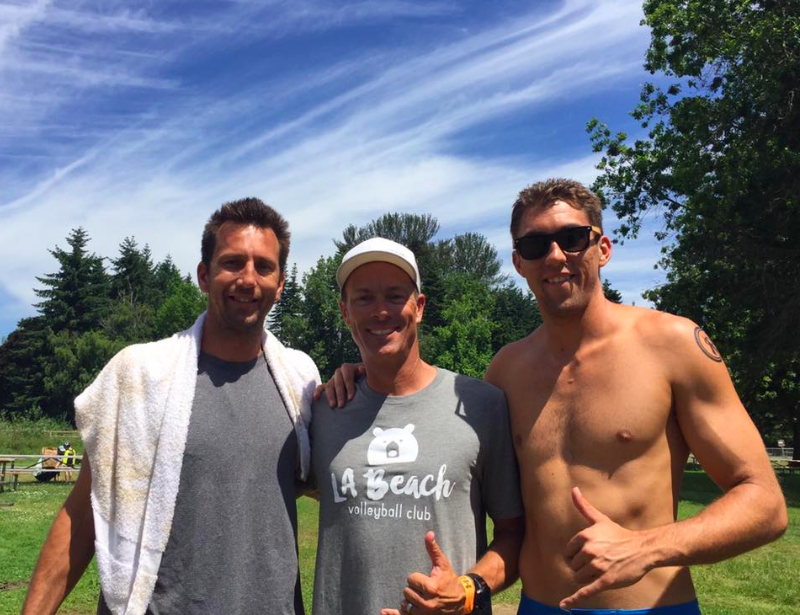 In 1997, there were six countries with beach volleyball coaches for their national teams. Perhaps one of the most unqualified to do so was one of them.
Jeff Alzina had never coached on the beach prior to '97, nor had he ever really played at much of a high level, having made just one AVP main draw, in Chicago of 1992. But he still trained with the top guys, setting up drills and competitive practices, making it so that his "biggest experience [on the beach] wasn't necessarily competing at a high level, but training at a high level," he said on SANDCAST: Beach Volleyball with Tri Bourne and Travis Mewhirter.
Being the practice guy everyone turned to paid off far more than being one of the top guys there to practice.
In September of 1997, the FIVB held a stop in Los Angeles, at the UCLA tennis center. Not long prior, Athens had been awarded the bid to the 2004 Summer Olympics, meaning Greece would have a bid for a beach volleyball team. Only, they didn't have a team to send. So a few Greek representatives went to the U.S., then the unquestioned beach volleyball powerhouse of the world, to recruit someone who could launch their beach program. It would be someone young, preferably without a family, seeing as they'd have to relocate to Greece. Someone crazy enough to take on a beach volleyball program without a single beach volleyball player.
Someone like Jeff Alzina.
"They liked the way I worked with young people and thought I'd do a good job," Alzina said. "So I was the national team's director and head coach for men's, women's and junior volleyball."
He got an apartment, was assigned an assistant, and then began scouring the country for beach volleyball players, with the goal to recruit a team who might become good enough to be competitive by the time the 2004 Olympics rolled around.
Alzina had a more expedited mission in mind. He found two indoor players by the names of Vasso Karadassiou and Efi Sfyri. They had played a few beach events, enough to be ranked 63 in the world.
Within a year, they were ranked No. 12, qualifying for the Sydney Olympics.
"It was surprising to a ton of people but I saw the talent in them right off the bat," Alzina said. "To this day, I think the right-sider, [Karadassiou], was one of the best right-side defenders to ever play the game. They won a European Tour stop they had never won – they had never even medaled. So these girls just became national heroes and the federation went bananas too and went 'Oh my God, let's keep funding this thing. This is great.' So the national tour grew, the juniors tour grew, those girls went on to be legends."
And the legend of Alzina began. In Sydney, Alzina ran into Barbra Fontana, one of the best to ever play the game for the U.S. She had seen the work Alzina had done with Greece and offered to hire him to coach her and Elaine Youngs.
"After that hire, Elaine was good friends with Kevin Wong, Kevin said Elaine had only told him good things and…" the rest, you could say – and Alzina later would – is history.
He was hooked. And because he still hadn't been coaching for long, his learning curve remained steep. He watched 25 hours of film a week, cutting it up on VHS tapes he still has at home. He began statting matches, reading everything he could get his hands on.
"It was like getting your 10,000 hours of coaching in one year," he said. "It's just a little bit of dumb luck, right place, right time, with some motivation."
Since leaving the Greek program, Alzina has coached nearly three dozen Olympians and several hundred professionals in 83 open finals and counting. He has coached the USAV's Elite Developmental Program and is currently overseeing its youth teams, which recently returned from a successful trip in Argentina, with two top-fives from the boys and girls teams.
This year, he helped with Trevor Crabb, who not coincidentally enjoyed the most successful year of his career internationally, with two gold medals and nearly a bronze in a four-star Olympic qualifier in Las Vegas.  
In January, he got the call from Stein Metzger, whom Alzina coached in the 2004 Olympics, asking if he'd like to be his volunteer assistant. Alzina left a post at Long Beach State, where he had helped turn a program around from 13-14 to 26-10 in two years, and took the volunteer spot with the Bruins.
Metzger told the Daily Bruin that with Alzina, UCLA might be able to become a top-five team in the country.
In May, they won their first National Championship.
"I kinda thought Pepperdine was going to win it all and I thought USC had the talent to be in the finals again," Alzina said. So it wasn't going to be easy. He knew that. And when they lost in Gulf Shores to Florida State in their second match, he didn't turn to the film, as he is wont to do, or to more reps, or to the weight room. No, one of the best coaching moves Alzina made as a Bruin was take the girls mini golfing.  
"After that game, one of our freshmen said 'I got something to say,'" he recalled. "And she said 'Guys, we were supposed to lose this game. This year is not supposed to be a runaway for us. We've got to have a wakeup call and we've got to grind and that was the loss we needed. And it just sent this chill vibe to everyone where we're not panicking, not going back to video to find out what was wrong with them. They just had to shed something off their back and look forward and be positive, and they did."
So underestimate Alzina if you will. But from Greece to Fontana to the USAV youth to Crabb and now UCLA, Alzina is going to find a way to get his team – guys or girls, old or young, foreign or domestic – to win.  
Play Now