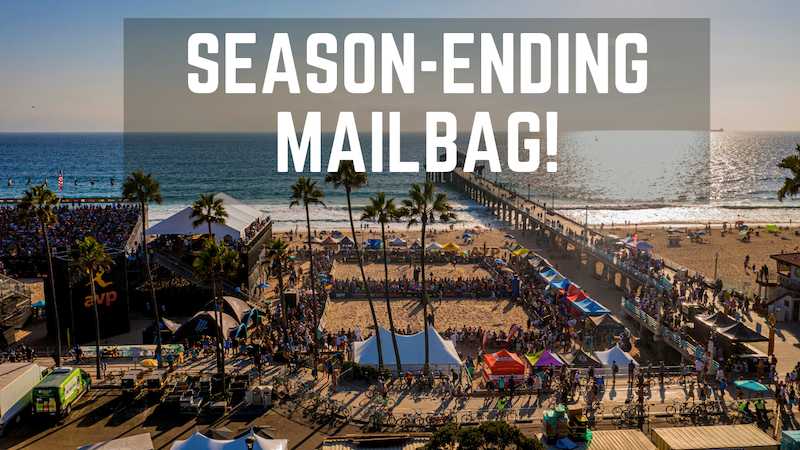 This episode of SANDCAST: Beach Volleyball with Tri Bourne and Travis Mewhirter, is our semi-monthly, always-popular edition of our mailbag, where we take your fan questions and answer them alongside UCLA's finest, and now one of USA Volleyball's brightest, Savvy Simo. We're calling this the season-ending mailbag, although that might be a bit of a misnomer, as the season isn't technically over, with two more AVPs to go, in Huntington Beach and Central Florida. But, the Phoenix Championships have ended, so it's sort of the end of what we consider the 2022 season. We chatted about quite a bit, including:
What are the partnerships looking like for Paris 2024?
How was the AVP Phoenix Gold Series Championships?
How to maximize your off-season
Who surprised us the most this season?
ENJOY!
***
NEW BOOK ALERT!!! Travis Mewhirter and Kent Steffes just published a seminal work on the history of beach volleyball in their new book, Kings of Summer: The Rise of Beach Volleyball. Check it out on Amazon!! https://www.amazon.com/Kings-Summer-rise-beach-volleyball/dp/B0B3JHFKM7/ref=sr_1_1?crid=1WGJFWHPBGPQ2&keywords=kings+of+summer+book&qid=1658922972&sprefix=kings+of+summer+book%2Caps%2C1328&sr=8-1
We are FIRED UP to announce that we've signed on for another year with Athletic Greens! Stay healthy with Tri Bourne and Travis Mewhirter and get your greens today! https://athleticgreens.com/partner/d35ctoffer-strength/en?utm_source=podcast&utm_medium=influencer&utm_campaign=sandcast_d35ct__a3172__o27&utm_term=cac__a3172__o27&utm_content=sport__a3172__o27
We now have SANDCAST MERCHANDISE!! Rock the gear of your favorite podcast today! https://www.sandcastmerch.com/
If you want to receive our SANDCAST weekly newsletter, the Beach Volleyball Digest, which dishes all the biggest news in beach volleyball in one quick newsletter, head over to our website and subscribe! We'd love to have ya! https://www.sandcastvolleyball.com/
This episode, as always, is brought to you by Wilson Volleyball, makers of the absolute best balls in the game, hands down. You can get a 20-percent discount using our code, SANDCAST-20! https://www.wilson.com/en-us/volleyball
Check out our book, Volleyball for Milkshakes, written by SANDCAST hosts Tri Bourne and Travis Mewhirter: https://www.amazon.com/Volleyball-Milkshakes-Travis-Mewhirter/dp/B089781SHB
Play Now