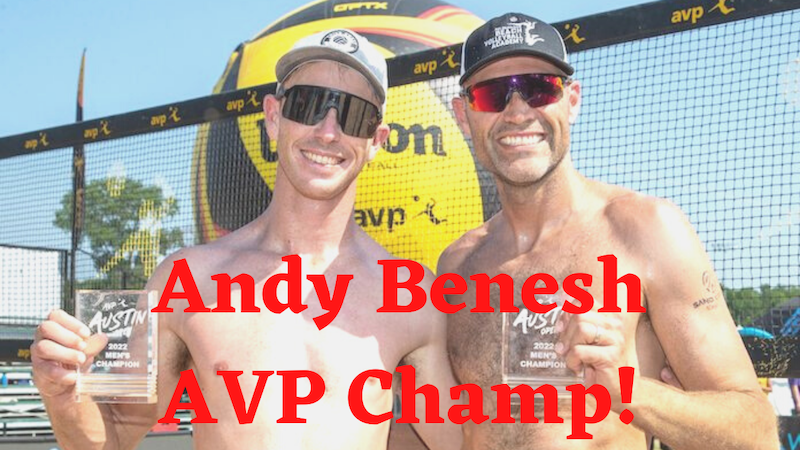 Andy Benesh is one of the brightest talents on the AVP Tour, as proven two weekends ago when he won the season-opening event of the 2022 AVP season in Austin, Texas. There's a reason veterans and AVP champions such as Billy Allen, Nick Lucena, and Phil Dalhausser have competed with him: He's darn good. And he's going to be good for a long, long time to come.
On this episode with Andy Benesh, we chat about:
What it's like to play (and win) with Phil Dalhausser
His momentous win at AVP Austin
The incredible impact Nick Lucena and Billy Allen have made on his career
His staggering rate of improvement in beach volleyball, and how he's not even close to reaching his ceiling
And, as always, so much more.
ENJOY!
***
Like our content? Leave us a tip :) We don't charge a subscription fee, so everything is much appreciated: https://motivated-author-4500.ck.page/products/sandcast-tip-jar
We now have SANDCAST MERCHANDISE!! Rock the gear of your favorite podcast today! https://www.sandcastmerch.com/
If you want to receive our SANDCAST weekly newsletter, the Beach Volleyball Digest, which dishes all the biggest news in beach volleyball in one quick newsletter, head over to our website and subscribe! We'd love to have ya! https://www.sandcastvolleyball.com/
This episode, as always, is brought to you by Wilson Volleyball, makers of the absolute best balls in the game, hands down. You can get a 20-percent discount using our code, SANDCAST-20! https://www.wilson.com/en-us/volleyball
Check out our book, Volleyball for Milkshakes, written by SANDCAST hosts Tri Bourne and Travis Mewhirter: https://www.amazon.com/Volleyball-Milkshakes-Travis-Mewhirter/dp/B089781SHB
Play Now